Pivot Stick Figure Animator
is
freeware
I downloaded after seeing examples created by students.
One great feature is you can add your own background and make interesting videos.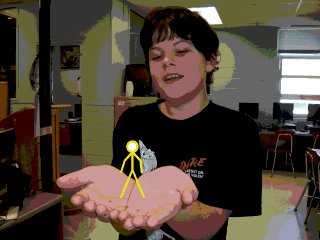 There are a few things to consider if you want to post the video to your blog. First you have to save your movie as a .gif file. This is a moving picture file (not to be confused with a .mov file) You have the option in the save menu of the program.
After I saved it as a .gif I uploaded it to the blog as a picture, but it was not animated. I did a Google search on "
uploading gifs to blogger
" and found
this post
from the blog
Blogger Tips and Tricks
. In it the author suggested using
Photobucket
to host the picture and using the html code to post the picture. As you can see above it worked!